Please direct all communications to: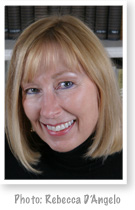 Kathy Sawyer covered space science and technology for The Washington Post for seventeen years, beginning with the 1986 Challenger accident that killed seven astronauts and including the 2003 loss of the space shuttle Columbia along with the crew of seven. Her work has also been published in magazines such as National Geographic and Astronomy. A native of Nashville, Tenn. and a graduate of Vanderbilt University, she began her career as a feature writer at the Tennessean newspaper. Twice nominated for the Pulitzer Prize, she is the recipient of honors including the National Headliner Award for Best Domestic News Reporting (1970) for coverage of the war in Vietnam and other subjects, and the David N. Schramm Award for journalism in the field of high-energy astrophysics, given by the American Astronomical Society (1999).
Kathy has appeared as a guest on CBS's "Face the Nation,"
PBS's "Lehrer News Hour" and "Washington Week," and in news programming on C-Span and other TV outlets, as well as on radio programs such as NPR's "Diane Rehm" show. She has given talks to groups including the American Astronomical Society and the LBJ Library and participated in panel discussions before audiences at Cal-Tech and Vanderbilt universities, the First Amendment Center and others.
In order to give readers a visceral sense of the events she writes about, Kathy has made parachute jumps, flown weightless aboard NASA's "vomit comet" aircraft used to train astronauts, flown through the eye of a killer hurricane aboard a research plane, and is one of the few journalists who has made a deep ocean dive aboard the three-person Alvin submersible vessel, to see oases of strange life thriving on the sunless floor of the Pacific. She holds a (lapsed) private pilot license. She and her husband John Atkisson live in Washington, D.C. with their cat, Beacon. They enjoy sailing as a way of "communing with the ancients."
Addendum:
In August 2009, Kathy's husband was diagnosed with inoperable lung cancer. John died on February 19, 2010. (For more, see http://www.Kestrelboat.com)