Kathy Sawyer covered space science and technology for The Washington Post for seventeen years, beginning with the 1986 Challenger accident. She has twice been nominated for the Pulitzer Prize. Her first book won an award for excellence from The National Academies, the nation's premier scientific advisory body...More →
"When we talk about the marriage of science and journalism, our dilemma is clear. Science is slow, patient, precise, careful, conservative and complicated. Journalism is hungry for headlines and drama, fast, short, very imprecise at times."
----Sawyer, quoted in Worlds Apart: How the Distance Between Science and Journalism Threatens America's Future, by Hartz and Chappell (First Amendment Center).
Kathy, in her first book, The Rock From Mars: A Detective Story on Two Planets (Random House) "realizes the full potential of a great science story in all its multidimensional complexity and richness…" –The American Scientist
MORE »
---
Purchase The Rock From Mars at





"Thanks to Kathy Sawyer's vibrant writing, "The Rock From Mars" unfolds like a Hollywood cliffhanger..." MORE »

"...Ms. Sawyer has a knack for translating complex procedures and ideas into accessible language and vivid images. She also has a gift for political comedy..." MORE »


See Roy Rivenburg's January 17, 2017, Interview of Sawyer on the Nieman Foundation website about her "Death Row Granny" article:
Annotation Tuesday! Kathy Sawyer and the execution of the "Death Row Granny"
---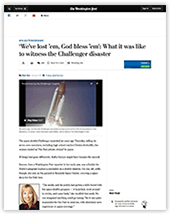 See Dan Zak's January 28, 2016, Interview of Sawyer in The Washington Post on the Anniversary of the Challenger Accident:
'We've lost 'em, God bless 'em': What it was like to witness the Challenger disaster